Hello all,
I finally found this forum after looking for one that is based in the U.A.E haha. I am from the U.A.E but I am currently living in the U.S to go to college. I thought I would introduce myself and show some pictures of my car
. For the first car I have a 300c srt8 that has a 7.0liter 426 stroker engine. I decided to go N/A for the fact that I love N/A cars. It has the 7.0 stroker with big valve chamber cylinder heads and a very very aggressive 24x/24x cam. Other than the engine and heads I put a 4" true cold air intake that is custom fitted to go all the way down to the brake ducts for colder air. Kooks headers 1 7/8" with catless mids followed to catless mids and a one of a kind custom built exhaust system especially for the build
. The build got around 605hp and 615tq but that was with 22" wheels and the car was heatsoaked
For looks I put a magnum srt8 front end on the 300c srt8 front end, put a carbon by design carbon fiber hood, and 22" wheels. For the paint job I like the viper blue so I did a viper blue paint job. For sound I have 2 kicker cvx 12" subs powered by a 1500w audio pipe amp. Carbon fiber inside. Lowered 2" and I am sure I am missing something but that is pretty much it.
The car was featured in some magazines such as Automotive group and The car connection.
Thanks for looking.
Here are some pics.
When the wheels were white.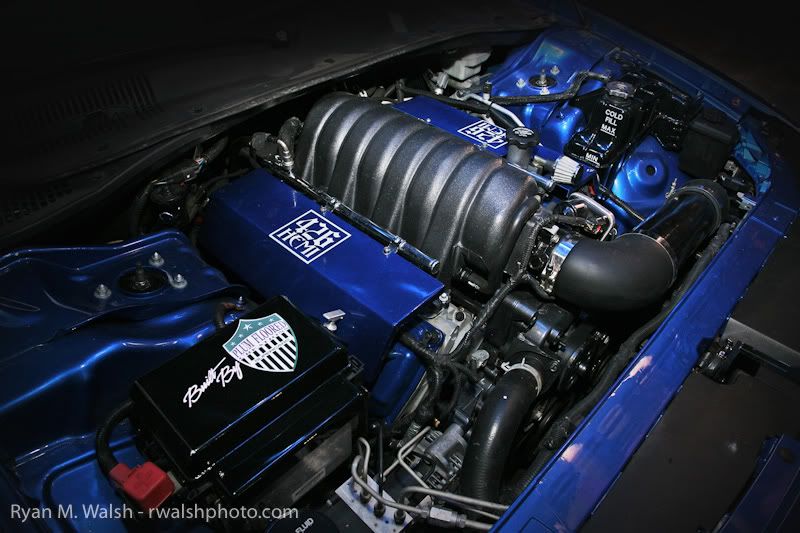 Custom nose badge